Ski chalet in the High Tatras
If you are looking for a perfect accommodation and skiing during your winter holiday for affordable price, this is a perfect solution for you. The ski chalet is located at the foothill of the High Tatras, just a few kilometres from ski resorts in the High Tatras. The chalet is an ideal place for those, who want to spend their winter holiday in mountains and enjoy relaxing in nature.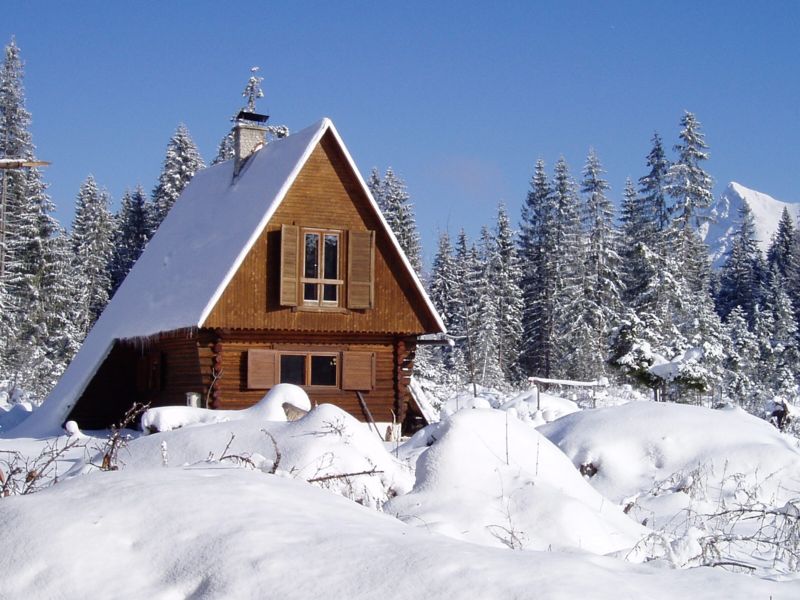 About the accommodation and location
Skiing during the days and relaxing during the evenings, looking at the fire in the fireplace - this all will be unforgettable experience that you will wish to experience again and again.
Whether you come with your friends or your family, the chalet will suit all your needs. The accommodation is suitable for 6 persons, accessible both in winter and summer. Beside the chalet, parking is available for our guests for their comfort. Sorry, no pets are allowed.
We will welcome you in a guest room with a fireplace, spreading heat all around and creating an cozy ambience during all days and nights. This room is also equipped by TV, satellite receiver and DVD player. So don't think that you have to ski all the time - resting is also inevitable during your holiday.
Rooms
The accommodation is suitable for small groups of friends or families, wishing to spend their time together. The chalet provides two rooms, located on the first floor. The first room is suitable for 4 persons, the second room for 3 persons. Both of them provide a nice view of surrounding - peaks of Tatry mountains and forest around.
Sleeping room for 4 persons
Sleeping room for 3 persons
Guest room with a fireplace
Bathroom and kitchen
On the ground floor, there is a kitchen and bathroom. In the fully equipped kitchen, there is all the equipment necessary to cook and prepare food, including a cooker, microwave oven and electric kettle. The kitchen is adjacent to guest room with fireplace, TV and satellite receiver.
Kitchen
Corridor and bathroom
Pricelist
Pricelist

Chalet for 6 persons
85 €
Christmas (21.12.2022 - 28.12.2022, min. 4 nights)
90 €
New Year (28.12.2022 - 4.1.2023, min. 5 nights)
130 €
Prices listed above are for chalet for 1 night for 6 persons.
Local tax 0.40 €/person/night.
When checking-in, 70 € as a deposit is taken. Deposit will be given back when checking-out.
Electricity, water and wood for heating are included in the price.
We refund the advance payment when you cancel the booking more than 30 days prior to arrival.

Pets aren't allowed.
Availability
Booking
When booking the accommodation, please contact us using following contacts or booking form:
+421 902 172 292
info@skihightatras.eu